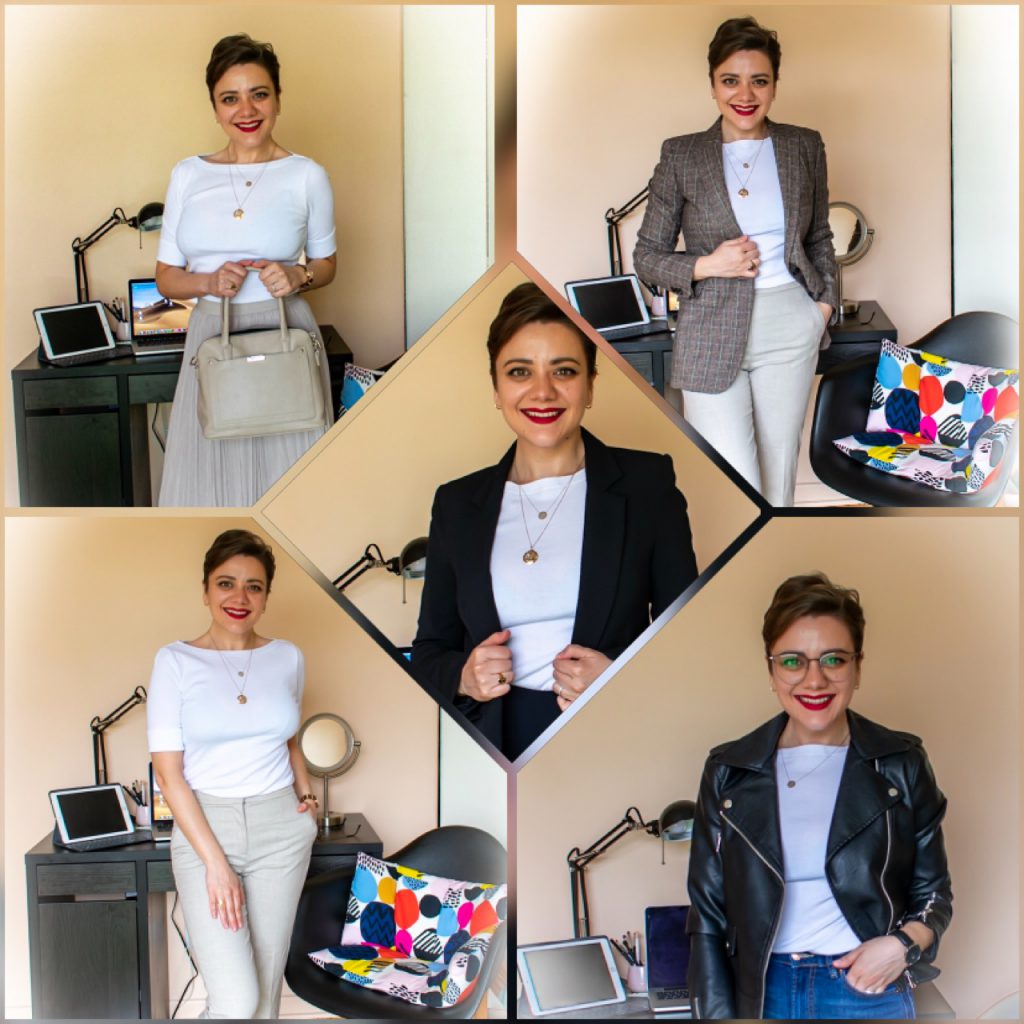 I spend a lot of time thinking and doing research about how to maximize the wear of the pieces that I already own. I'm a huge believer in "less is more" since the day I was born 😀 , so to be able to create different looks with what I already have it is an amazing exercise for me and for anybody else as well.
Now, I need to start this post by telling you about me. My style can be classified as classic with an edge. What does it means? It means I love classic pieces, I enjoy vintage pieces, I pretty much search good quality in all the things that I choose to buy and also the simplest cut. My day to day outfit needs to be minimalist, a lot of times monochromatic with some kind of accent piece. With this being said we can move on to the actual content.
Outfit 01
First look that I choose involves a white blouse, a pleated pale-rose skirt, my pointy toe slingback pumps and a neutral bag. To accessorize this outfit I chose to layer 2 gold necklaces, and, as earrings, I choose my small gold hoops. I also wear my golden watch because I thought that it brings a nice touch that I can add. This outfit can be worn at the office, if it suits your company's demands, or on an evening date if you switch the bag with a clutch 😉 .
Outfit 02
For the second outfit I used a white blouse, a pair of biker shorts that are so in trend right now, a black blazer with some golden details + my pointy toe slingback pumps. The reason for choosing the same accessories is my black blazer which has some golden elements. I worn here, also, my signet ring because it elevates the outfit 😉 . This combination can be worn at the office only if your company is on the nonconformist side, because of the amount of skin that's peeking through. On the other side this is the perfect combo for a weekend meeting or a brunch.
Outfit 03
For the third outfit I came back to neutrals. A pair of linen pants are a great choice for spring & summer, a pleated blazer that I love and of course the white blouse. For shoes, I chose to wear my beige sandals. This combo is so pleasing to the eye and it offers you the confidence that you need at office. As accessories, I used the same ones. This combo is great for an interview, for the office, for a business meeting, for a lot of occasions business related.
Outfit 04
This one goes a little bit more on the casual side. Here, I opted for a pair of mom jeans with a little distress, a white blouse, my black biker jacket and my slingback pumps which, I think, are the perfect match with the jeans. For this kind of an outfit I changed my watch with one that has a black strap and I got rid of my rings and my necklaces. This outfit can be worn literally anywhere, so be creative and enjoy your day!
Outfit 05
For this last outfit I just changed the jeans with ones that are more suitable for work and my shoes with a pair of nude sandals. I remained with the same accessories.
And that was all for today, I hope I inspired you to do more with less and I hope to have you back for my next one.
xoxo,
Diana